The average cost of Invisalign may be one of the first things that come to mind if you're considering using it to straighten your teeth. However, as with any dental procedure, the cost is a factor to consider. Invisalign is known for being more expensive than traditional braces, but the cost can vary depending on several factors. So, whether you're considering Invisalign for yourself or for a loved one, read to learn more about what you can expect regarding the cost of this popular orthodontic treatment. In this blog, we'll look at the average cost of Invisalign in Modesto, CA, and what factors can impact the final price.
Average cost of Invisalign in Modesto, CA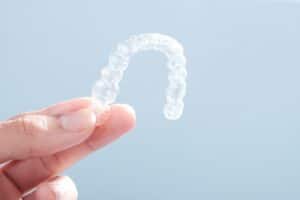 The average cost of Invisalign is $3,000–$7,000 before insurance. However, the cost of treatment depends on many factors. Each treatment plan is different due to individual needs.
Some patients have complex orthodontic problems, while others have minimal issues. Pezoldt Orthodontics will discuss the average cost of Invisalign in Modesto, CA, during your consultation. At the same time, the caring staff will give you a clear picture of the path to the smile you deserve.
Why Choose Invisalign?
Invisalign has the edge over braces in many ways. The aligners are clear, and you remove them to clean them and eat. Frequently, Invisalign aligners work very quickly compared to traditional braces. Furthermore, this method of straightening teeth is dependable, even for tough orthodontic cases.
Here are some reasons why you might choose Invisalign for your orthodontic needs:
Discreet Appearance:
Invisalign aligners are made of a transparent, smooth plastic material that is virtually invisible, making it an excellent option for individuals who want to straighten their teeth without drawing attention to their orthodontic treatment.
Comfort:
Unlike traditional braces, which can cause discomfort or irritation in the mouth, Invisalign aligners are comfortable, flexible plastic that won't irritate your cheeks or gums.
Effective Treatment:
Invisalign can treat many orthodontic issues, including crowding, spacing, overbite, underbite, and crossbite. With consistent use, Invisalign can help you achieve a straighter, more aligned smile.
Shorter Treatment Time:
Invisalign treatment typically takes less time than traditional braces, with many patients achieving their desired results in 6-18 months.
Removable:
Invisalign aligners offer the convenience of being removable, allowing you to take them out while eating, brushing and flossing. This makes maintaining good oral hygiene during your orthodontic treatment.
Customizable Fit:
Additionally, the aligners are custom-made to fit your unique dental structure, ensuring that your treatment is as effective as possible.
Why Dr. Pezoldt?
An expert orthodontist with years of expertise, Dr. Pezoldt is committed to giving his patients the best orthodontic care. Each patient receives a customized care plan that is made to meet their specific needs and objectives. To ensure that his patients receive the modern and effective orthodontic treatments in Modesto, Dr. Pezoldt employs the most recent technology and methodologies. Dr. Pezoldt is committed to giving his patients the beautiful, healthy smiles they deserve through his knowledge and sensitive care. Pezoldt Orthodontics proudly serves Modesto and Oakdale in Stanislaus County along with surrounding communities in California.
The Free Consultation
The free consultation is where your journey to a confident smile begins. At this consultation, Dr. Pezoldt will evaluate your needs and talk to you about your smile. Afterward, he will discuss your treatment plan options with you. You will have an opportunity to decide how you feel about Invisalign. Best of all, you won't feel rushed. You will see how great of a fit Pezoldt Orthodontics is for you and your lifestyle.
Schedule a Consultation for Invisalign
Pezoldt Orthodontics offers free consultations at our Modesto, California, office. We use the latest technology, including 3-D impressions. We also provide other treatment options like braces in Modesto . Contact Pezoldt Orthodontics at (209) 524-8381 to schedule a complimentary consultation for Invisalign and learn about the average cost.