All Your Braces Needs at Pezoldt Orthodontics
Orthodontic braces have been a game-changer in dental care, providing an effective solution for various alignment and spacing issues. At Pezoldt Orthodontics in Modesto we specialize in offering a range of braces in Modesto CA, and in the Oakdale area to suit the individual needs and lifestyles of our patients. Our goal is to help you achieve a beautiful, healthy smile, whether you choose traditional metal braces or more discrete clear ceramic options.
Traditional Braces with In-Ovation R
Traditional braces have proven effective and dependable in the field of orthodontic treatment. Our team at Pezoldt Orthodontics takes this proven solution one step further by featuring In-Ovation R, a leading-edge technology in the field of orthodontic braces.
How Does In-Ovation R Braces Work?
In-Ovation R employs self-ligating brackets, which means there's no need for rubber bands or ligatures. This advanced system streamlines your orthodontic journey, making it more convenient and comfortable than ever before. As a result, patients can enjoy longer intervals between appointments, typically around 8 to 10 weeks.
Benefits of Choosing In-Ovation R Traditional Braces at Pezoldt Orthodontics:
Reduced Discomfort – The self-ligating system means fewer adjustments and less pressure on your teeth, leading to a more comfortable experience.
Time-Saving – Longer intervals between visits (8 to 10 weeks) allow for minimal disruption to your daily life.
Efficiency – In-Ovation R's cutting-edge technology may shorten overall treatment time.
Aesthetic Flexibility -For those who wish to add a bit of personality to their treatment, colored ties are available to accentuate the metal brackets.
Easier Maintenance – Without the need for rubber bands, cleaning your teeth becomes a simpler process.
Lower Risk of Oral Issues – The streamlined design minimizes crevices where food particles can get trapped, reducing the risk of plaque buildup and dental issues.
Optimized Results – With state-of-the-art technology, In-Ovation R braces are designed for optimal tooth movement, ensuring that you get the best results possible.
Cost-Effective – Given the reduced number of appointments and potentially shorter treatment time, you might find In-Ovation R to be a cost-effective option in the long run.
Add a Splash of Color
To keep things fun, especially for teenagers, we offer colored ties that you can add to your braces. Show off your team spirit, seasonal flair, or just coordinate with your outfit! Since most people wear braces for around 24 to 28 months, adding some color can make the process more enjoyable.
Clear (Ceramic) Braces
For those seeking a less conspicuous treatment option, Dr. Pezoldt may recommend ceramic braces. Crafted from composite ceramic alloys, these braces are transparent, ensuring that your natural tooth color shines through.
Durability Meets Aesthetics
New technological advancements have allowed our clear braces Modesto and clear braces Oakdale CA to offer durability comparable to metal braces while providing a more discreet look. The treatment is completed with white or clear elastic rings for an overall blended appearance.
Meet Your Orthodontist
At our practice, which offers Modesto braces and braces Oakdale CA, you'll be under the expert care of Dr. Brad Pezoldt, a seasoned orthodontist with over 23 years of experience in the field.
Dr. Pezoldt, who specializes in a variety of procedures, is dedicated to using the most recent developments in orthodontic technology to deliver highly customized and efficient care. His knowledge and commitment to making sure his patients are happy make him a trusted choice for braces treatment in Modesto and Oakdale.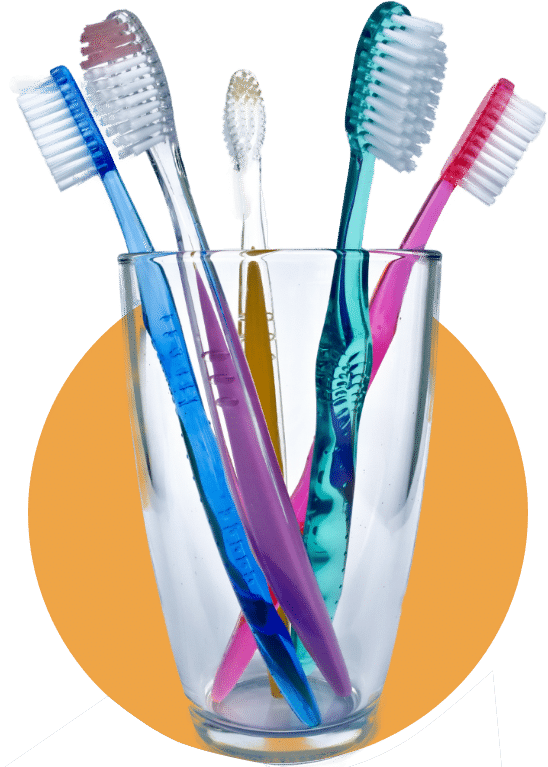 Life With Braces: Tips and Guidelines
Braces might bring some changes to your daily routine, but not to worry, we have compiled some useful tips for a smooth experience.
Brushing
Brush four times daily to avoid plaque and food particle accumulation:
After breakfast
After lunch or right after school
After dinner
Before bedtime
Use a toothbrush with soft bristles and fluoride toothpaste. Employ small circular motions to clean all around the brackets, wires, and gum lines.
Note: Your toothbrush may wear out faster due to brushing the brackets and wires. Replace it when you notice bent or frayed bristles.
Flossing
Daily flossing is essential. Use a floss threader to navigate the floss under your archwire.
It's normal for gums to bleed during the first few instances. If it persists, notify our staff during your next visit.
Dietary Guidelines
Most of your favorite foods are still on the menu, but it's best to avoid hard, sticky, gummy, or chewy foods that might damage the brackets.
Tip: Click here for a detailed list of allowable foods you can print for quick reference.
Cost of Braces
Understanding the braces cost Modesto and Oakdale areas is an important aspect when considering orthodontic treatment. At Pezoldt Orthodontics, we strive to provide quality care that's also affordable.
The price may vary depending on how complicated your case is and what kind of braces you choose, but we offer a variety of financing options and payment plans to fit your budget. We also accept most insurance plans, and our staff is happy to assist you in understanding your coverage and maximizing your benefits.
For a more precise estimate tailored to your needs, we encourage you to schedule a consultation with Dr. Pezoldt.
Consult Pezoldt Orthodontics Today
Whether you opt for traditional or ceramic material or need teen or adult braces Modesto and Oakdale, our team at Pezoldt Orthodontics is committed to providing you with top-quality care and ensuring that your time in braces is as comfortable and effective as possible.
With our strategically located offices, you can conveniently access high-quality orthodontic care without unnecessary travel. All of the following locations are available for booking a complimentary consultation:
Modesto, CA Office
1316 Coffee Rd #D10, Modesto, CA 95355
Oakdale, CA Office
146 N Maag Ave., Oakdale, CA 95361
Feel free to contact us for any further questions or to schedule an appointment.