Your son or daughter needs braces, and you can't help but wonder, "How much do braces cost for kids?" You want to have an idea of how much you'll spend before committing to orthodontic treatment. Get the details and schedule a consultation with an Oakdale orthodontist.
How Much Do Braces Cost for Kids? – What to Expect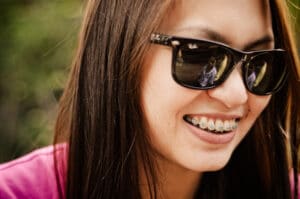 Children's braces typically cost between $4,685 and $6,500. Various factors go into the cost, including the length of the treatment plan and the severity of the alignment issue.
When asking, "How much do braces cost for kids?" you also need to consider the type of braces your son or daughter wants to get. This also factors into the cost.
Traditional metal braces are the most common for kids. The brackets are much smaller than they were in the old days, and the wires are more comfortable. These braces usually cost $3,000-$5,000.
Ceramic braces are also an option for kids. The clear ceramic blends in with natural teeth, so kids don't have to show the world they're straightening their teeth. Ceramic braces normally cost $2,000-$5,000.
Does your child prefer clear aligners? Invisalign Teen costs between $1,000-$5,000. You might be worried about your child having removable aligners, but Invisalign Teen has a compliance indicator. You can easily see if your child has been wearing the aligners or keeping them in the case.
How Much Do Braces Cost for Kids? Ways to Save
Do you want to make braces more affordable? You have some options. First, choose an Oakdale orthodontist who offers free consultations. Then you can find out exactly how much the treatment will cost without spending any money. The money you save can go toward the treatment.
When it comes to paying for treatment, you can use funds from a flexible spending account or a health savings account. You can also finance the treatment. Consider third-party or in-office financing. Then you can make low monthly payments for the braces.
Schedule Your Free Consultation
You can't get the answer to, "How much do braces cost for kids?" until your child undergoes a consultation. Contact Pezoldt Orthodontics' Oakdale office at (209) 847-7014 to schedule a free consultation. Dr. Pezoldt will go over your son's or daughter's treatment plan and discuss payment options.