Have you noticed that lots of people wear clear aligners in Oakdale? You might not be aware since it's hard to detect the clear aligners, but they are incredibly popular. You want to straighten your teeth, and you wonder if Invisalign is the answer. Find out more about clear aligners, so you'll know if Invisalign is the right choice for you.
You'll Start With a Free Consultation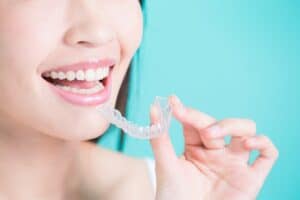 Before you get clear aligners in Oakdale, California, you need to schedule a consultation. While some Invisalign providers charge for consultations, others offer free initial visits. During the visit, your provider will determine if Invisalign will treat your alignment issue. Invisalign treats a variety of issues, including spacing problems, overbite, and underbite. You'll also receive a quote, so you'll know how much your treatment will cost.
Paying for Clear Aligners in Oakdale
You don't have to stress out about paying for clear aligners in Oakdale when you choose the right orthodontist. Some Oakdale orthodontists accept insurance and offer financing to help you pay for Invisalign. You can talk to your provider about the payment options for Invisalign during your consultation.
Wearing Clear Aligners
Your clear aligners will be customized for you, and each tray will move your teeth closer toward the perfect smile. You can take the aligners out whenever you want, but make sure you wear them for at least 23 hours a day. That gives you plenty of time to eat your favorite foods and clean your teeth.
Schedule a Consultation Today
Dr. Pezoldt and the team at Pezoldt Orthodontics are experts in clear aligners in Oakdale. We offer free consultations and payment plans, making it easy to undergo treatment. Contact Pezoldt Orthodontics' Oakdale office at (209) 847-7014 to schedule your free consultation. We will discuss your payment options and help you begin treatment.